Celebrating the Achievements of Transition Year Program Students and Alumni!
Shamil Auguste, Recipient of Toronto's 2015 LGBTQ Youth Bursary
Shamil Auguste, a recent graduate of York University's' Transition Year Program is the recipient of Toronto's LGBTQ Youth Bursary. The bursary is awarded by the Toronto Police Service in partnership with the LGBTQ Community Consultative Committee In recognition of achievements and contributions made by LGBTQ Youth in the City of Toronto. The Toronto Police Service provides policing services to one of the most diverse and multi-cultural cities in the world. The Service is the largest Municipal Law Enforcement Agency in Canada and its jurisdiction is home to one of the largest LGBTQ communities in North America. The award is an extension of their understanding of how the actions of all individuals are effective and important and was presented by Toronto Chief of Police Mark Saunders .
Auguste, 20 years old is an African American Male, born in St. Lucia and has been an active part of Toronto's LGBTQ Community since March of 2012. Auguste has made several contributions to the LGBTQ Community in the most versatile of ways, from being a volunteer at organizations, attending MsM Group meetings and to recent extent being part of Toronto's Ballroom scene (an outlet for artistic self-expression).
He believes that "Making a difference in a community is not solely volunteering at organizations, but also being able to reach out to individuals who aren't comfortable in being in the community but need help and support."
Auguste's contribution extends far beyond 'in-community' based work. While attending York University's Transition Year Program; Auguste grew a sincere interest in improving the lives of LGBTQ  Individuals.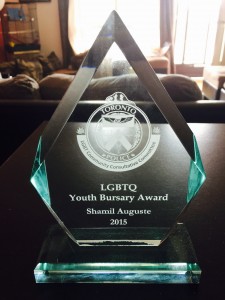 Auguste has made several presentations on "Stretching the Parameters of Black Masculinity "and "The Lives of Gay Intellectuals". He says "my presentations open diverse means of communication as to what it means to be Gay, Black and Male, The challenges members of the community face daily but most importantly the strengths and uniqueness of the community and why individuals should support it."
He continues to research and explore new ways of Improvement, New means of informing and bigger audiences to influence positively. Auguste in return has reached out to the Toronto Police Service in an effort of extending gratitude for having constructed an Award that directly emits the Importance of the Lives of LGBTQ Individuals and the sustenance of the community.