Please note that this program is currently being restructured with an anticipated start date for September 2021.
The Transition Year Program is a unique program in York's long standing history of offering accessible education. TYP@York's unique features include a recruitment and outreach strategy dependent on a strong network of local allies and self-selection combined with referrals from community advocates.
Recruiting non-traditional students who come from outside of the formal education system pr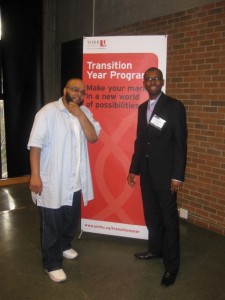 esents a host of challenges. Beyond waiting for the potential student to self-identify, it is difficult to run a pro-active recruitment campaign for such a fragmented population.
The York University - TD Community Engagement Centre (CEC) and its network of community partners offer an effective solution to some of these challenges particularly relevant for TYP. Partnering with community agencies in the referral and recruitment of TYP applicants has made it possible to identify prospective students eager and ready to soar. Once recruited, the community-based supports continue to help TYP students navigate complex life circumstances. TYP's high retention rates are in part the result of our ability to remain connected to students via community partners and vice versa.
Are you a community agency worker? If you would like the Transition Year Program to host an information session for your colleagues, clients, or partners in the community, please feel free to contact the TYP Coordinator.