Full-time Student Recognition
Students enrolled in the Transition Year Program are recognized as full-time York University students. As a result, TYP students have the opportunity to apply for financial aid from a number of resources, including York University's awards, bursaries and on-campus employment opportunities, as well as the Ontario Student Assistance Program (OSAP).
TYP students also have an opportunity to enrol in the York Federation of Students Health and Dental Plan, to take advantage of the University's Sport and Recreation facilities, and participate in the many student-led activities and student clubs that enrich a student's life.
To learn more about student life at York University, please visit the Current Students Web site.
Individual, Cohort, and Integrated Learning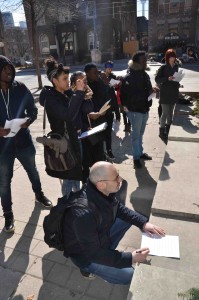 Students enrolled in TYP@York participate in a series of courses and workshops offering opportunities for learning one-on-one, as a cohort, as well as integrated with other academic and non-academic units across the University. Throughout the duration of the year, TYP students enrol in a diverse range of lectures and tutorials. Opportunities for learning range from individual academic advising and mentoring, to courses and workshops reserved for TYP students only, to lecture hall environments where students can interact with undergraduate students from across the University's range of disciplines.