The Transition Year Program at York University (TYP@York) is a special access program for youth (19+) and adults who are passionate about attending university.
TYP@York provides an opportunity to transition to university for those who have previously experienced social and financial barriers to accessing the formal education system.
A university degree is possible
A full-time program, TYP combines academic and non-academic activities over a two-term(September to April) session. Students enrol in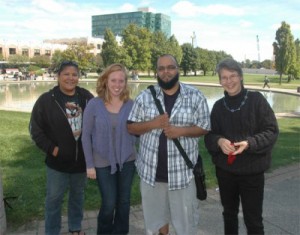 a combination of university courses and workshops totaling 30 credits worth of full-time study. Courses and workshops bridge the gap between a student's prior experience and level of education and the formal educational credentials to qualify for admission to a university degree program. Students are required to attend approximately 16 hours of class time per week. Students spend additional hours studying, preparing for class, and participating in other program support opportunities.
Completing TYP...

Upon completion of TYP@York, students will earn 18 academic credits toward university degree study. Students who complete TYP are also eligible to transfer into an academic degree at York University, subject to the admission requirements and prerequisites of that degree program. In this way, TYP serves as a bridge into the first year of an undergraduate degree.